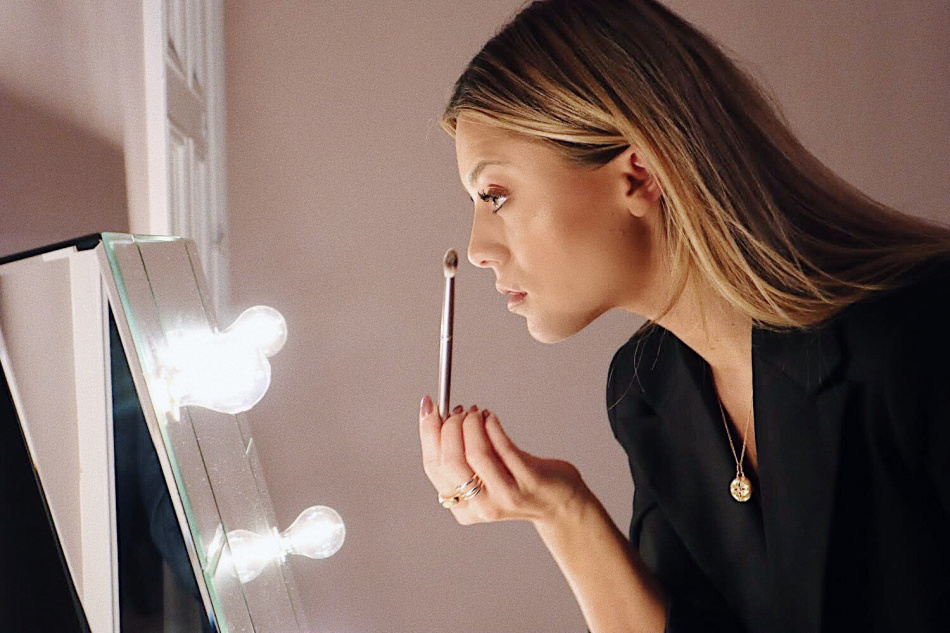 At CAIA QUEENS, you'll find interviews with, and reports on, interesting women that inspire us! The first is with CAIA's amazing founder and Creative Director, Bianca Ingrosso.
Bianca, tell us about your brand, CAIA Cosmetics!

– I'd love to! CAIA isn't just a makeup brand. It's a female role model which, in many ways has served as my guiding star. Every time I'm facing a decision, I ask myself, "What CAIA would do if she were in my shoes?" I think about that in many types of situations, ranging from important business decisions to the flavour she'd select for her milkshake on an ordinary Thursday afternoon! I've become totally obsessed with CAIA! She's become my alter ego.


Is CAIA real? Does she actually exist?

– Ha ha! I wish! But if she did, I'd certainly want to meet her! She's the kind of girl I'd want to party with all night long, or just hang out with, chilling at home. No matter what, you always have fun in her company. We would workout, laugh our heads off, and cry our eyes out together! She's the kind of girl who inspires other girls. She's generous, spontaneous and edgy. She's also kind and inviting. Even if you didn't see each other for several years, it would feel like yesterday the next time you met. She's incredibly smart and also utterly crazy! Totally inspiring. That's CAIA!

Ever since you were a little girl, you've hung out backstage at theatres and concerts across Sweden with your mother and you've had a passion for makeup since then. How has that inspired you?

–  I loved to sit and play with my mother's makeup artist's products. As a little girl, it was incredibly exciting seeing how ordinary people were transformed into princesses, trees or even Pippi Longstocking using makeup and brushes. I helped with everything from washing the brushes to curling wigs. I could also spend hours just cleaning and organizing the makeup stations. I started helping my mother with her hair and makeup when I was like 8 years old, because she was ALWAYS running late, ha ha!

I also started using makeup myself when I was quite young. Now, just like then, I can still spend hours in front of my makeup mirror testing new products and looks. I love it! I also get inspiration from some of my favourite YouTubers, like Nikki Tutorilas, Jaclyn Hill, Jeffery Star and Desi Perkins.

What is it about makeup that you like so much?

– You know, not many people really understand just how obsessed I am with makeup. It is unquestionably my biggest passion in life and getting to create my own makeup brand, my way, has always been my biggest dream. It's not just the creative part that I love. I'm also fascinated by the products' functions, the mystery surrounding different brands and the design of products. It's a never-ending world of possibilities!

Where do you get your inspiration from?

– I've always found strong, independent women to be incredibly inspiring. I've also been lucky to grow up surrounded by strong women. They cover a wide spectrum too: makeup artists, dancers, choreographers, producers, my mother's friends, in-laws, my brothers' girlfriends and their girlfriends have all been a part of my life. Of course, my own girlfriends also inspire me. My friends have always been by my side for all the ups and downs. But my greatest role model and biggest source of inspiration is my own mother. She's always been there for me, no matter what, giving me her love unconditionally. My mother is amazing!
So CAIA is a product of everyone and everything that has inspired me in my life!

Even though you and CAIA are closely intertwined, there are others behind the brand. You have three partners who are also owners of Beauty Icons AB, the company behind this new makeup brand. Could you tell us a bit about them?

– I've had great luck in teaming up with my amazing partners, Jesper and Mikael. They've worked with production and brand creation in the beauty industry for more than 15 years. My manager, Vanessa Lindbland is also a part-owner.

What is your role at CAIA? What does it involve?

– I'm the Creative Director and we work with world-leading manufacturers of colour cosmetics. The factories where CAIA products are made also manufacture some of the most exclusive makeup brands sold today in top department stores around the world. I make decisions about everything from which new products we will create to the design they will have. Quite simply, I'm the boss!

What is it that makes CAIA so amazing?

– CAIA represents outstanding quality. We never cut corners on anything! My partners and I are totally committed to delivering amazing products and experiences to our customers. I promise that when you purchase products from CAIA, you'll get more than just the best the market has to offer. You even get a piece of our hearts and souls!


Thanks for chatting with us, Bianca!